PERGOLA SUPERIOR FOR A TERRACE ROOFING
Do you have a problem with a big space?
This type of aluminium shading is different, because with the maximum w 7,000 x d 6,000 mm it has only 2 front aluminium webs!
Pergola GARDENDREAMS SUPERIOR is a unique terrace solution with only 2 front posts. The roof of this pergola may be made of 16 mm cellular polycarbonate in several options ; also with a 10 mm of security glass. The aluminium pergola structure is made of top -quality extruded aluminium profiles that are treated with high-quality powder colour Tiger Drylac in the RAL7016 shade. The pergola is normally supplied with the gradient of 8° (descend of 14 cm per meter), but a gradient of 5° to 15° may be set for a surcharge. In the front part, the aluminium pergola is equipped with a gutter system draining rainwater in the web through an integrated drain pipe. The webs in the front part are made of profiles sized 220 x 150 mm and their standard length is 2,400 mm. The pergola with a fixed roof may be used in the 1st and 2nd snow zone and has been tested for snow load of up to 170 kg/m2.
Our company SUN SYSTEM, s.r.o. is an exclusive representative for German aluminium pergolas GARDENDREAMS for the Czech and Slovak Republic and Austria.
REQUEST A QUOTE

Do you want to see how this pergola would look like in your garden or terrace? Try our app. Download:
Popis produktu
BASIC DESCRIPTION OF ALUMINIUM ROOFING
The aluminium pergolas are made of extruded aluminium profiles of the highest quality that are treated with a powder colour from an Austrian producer Tiger Drylac. The most important part of aluminium roofing is an extra front robust aluminium gutter sized 230 x 315 mm and integrated in the steel reinforcement. The gutter can only have a flat design. Another very important part comprises central and edge rafters with an integrated rubber gasket and the size of 150 x 75 mm that are secured with sealed cover profiles. Extruded aluminium webs sized 220 x 150 mm with the standard length of 2,400 mm are located in the front part. For a surcharge, larger webs may supplied (3,000, 4,000 or 6,000 mm).
MAINTENANCE-FREE ROOF OF THE ALUMINIUM SHADING
The aluminium shading roof may be made of polycarbonate with the thickness of 16 mm or 8 mm security glass (glued). The best selling type of maintenance-free pergola roof is made of polycarbonate that is less expensive and may be made as clear or whitish without any surcharge. For a surcharge, the polycarbonate may be extra clear, anthracite with a better heat reflectivity, clear with a better heat reflectivity and whitish with a better heat reflectivity.
A more expensive version includes a security glass (bonded) with the thickness of 8 mm that is more and more popular every year. We recommend you to equip the aluminium pergola with shading - pleats, canopy or awning.
TECHNICAL PARAMETERS OF A MODERN SHADING
Modern shading with a fixed roof has certain parameters for successful installation and evaluation of its possible use for your terrace. We recommend you to obtain information regarding the ordering and production dimensions, the gradient options and other features. Exact technical parameters of fixed-roof pergolas will be discussed with you by our business manager at the place of installation.
COLOURS OF THE TERRACE SHADING STRUCTURE PROFILES
The aluminium profiles of which this shading is made are treated with a powder colour produced by the Austrian manufacturer, Tiger. The base offer only includes RAL7016 - a fine structure (anthracite colour). For a surcharge, you may choose any colour from the RAL colour swatch in a glossy or structured version.
PRODUCTION DIMENSIONS OF ALUMINIUM SHADING
Aluminium terrace shading with a fixed roof is supplied as custom-tailored for every terrace. The minimum size of aluminium pergolas with a roof made of polycarbonate is w 3,000 x d 2,000 mm and the maximum size is w 7,000 x d 6,000 mm The number of the front aluminium webs located in the front part ranges from 2 to 5 according to the size. The minimum size of pergolas with a roof made of security glass is w 3,000 x d 2,000 mm and the maximum size is w 7,000 x d 6,000 mm Two robust posts are used for all sizes.
RAINWATER DRAINAGE INSIDE THE PERGOLA
As concerns a glazed or polycarbonate aluminium shading, the water is drained from the fixed roof to a drain profile located in the front part. Water is drained through a reinforced drain profile to a whole that is drilled on the place of the web. So the space under the pergola will always be perfectly dry.
ALUMINIUM PERGOLA SHADING BY MEANS OF AN OUTDOOR AWNING
For a comfortable use of your aluminium shading with a fixed roof, we recommend using of a specially developed awning for shading of pergolas or winter gardens. If you want to halt the sunlight above the roof, we recommend using of awnings, such as Airomatic, Targa or Xline. A disadvantage of an awning located above the roof is a greater tendency for wind blows, as well as more polluted fabric and impossibility of using the awning in rainy weather. Another option is to use awnings under the roof that do not prevent sunlight so efficiently, but are more resistant against wind; you can use them when raining and the fabric has a longer durability, as it is not exposed to external effects and impurities. If you consider this version, we recommend you to use the Xlight awning.
ALUMINIUM PERGOLA SHADING WITH USE OF PLEATS AND PLISÉ
A single and simultaneously affordable option of shading of aluminium roofs comprises pleats and plisé. It concerns an efficient shading that is installed between the aluminium roof rafters. Manual operation (by pulling the front profile with use of a rod) is a standard; but as concerns pleats, the product may be operated by an electric drive.
SCREEN ROLLER BLINDS FOR ALUMINIUM SHADING
Screen roller blinds ZIPSCREEN serve as a protection against various weather conditions (sun, wind or rain) and also to protect privacy under the aluminium pergola. Screen roller blinds are equipped with an extruded box with different sizes depending on the dimension (width). The dimensions of the guide profile that is fixed with use of stainless steel screws in the pergola web are 46 x 32 mm. A PVC insert is located inside the profile that is a part of the so-called ZIP system. We will adjust the colour of the aluminium profiles to the entire aluminium roofing structure.
TECHNICAL FABRIC OF SCREEN ROLLER BLINDS
The fabric of exterior roller blinds comprises glass or polyester fibres with a coating layer of PVC from the leading European manufacturers Sergé Ferrari and Copaco. The fabric edges are equipped with a "zipper" that is located in a guide profile. Thanks to this ZIP system the screen roller blinds resist up to 72 km/h (20 m/s) of gust wind. The most striking feature of screen roller blinds includes maintaining of the contact with the environment when looking through the fabric at daylight. To the contrary, the fabric is fully transparent upon the night lighting located under the pergola (so it does not protect your privacy at night). The technical fabric of screen roller blinds is fully maintenance-free.
SLIDING ENVELOPE GLAZING FOR PERGOLAS
The modern aluminium terrace shading with a fixed roof has been developed in the way that it might be easily extended to a winter garden. If you consider installation of sliding glazed systems already at the outset, we recommend you to use the cheaper winter garden Gardenroom that is supplied with standard dimensions and with frame-free or framed glazing. If you consider installation of the glazing for a later stage, use this Superior aluminium roofing. The aluminium roofing may be equipped with several versions of frame-free and framed glazing.
LIGHTING AND HEATING OF THE PERGOLA SPACE
Lighting is integrated inside the aluminium roof profiles. It concerns LED lighting that we supply in white colour. Operation by means of a remote control device, also with the ON/OFF function. When using a dimmer, the lighting intensity may be regulated to 0%, 33%, 66% and 100%.
Wall electrical heat lamps of various power outputs that we supply in different colours and with interesting accessories serve to heat your terrace space. Heat lamps are supplied with the efficiency from 1,500 W to 2,500 W and the radiation intensity may be selected on the remote control device at 0%, 33%, 66% and 100%.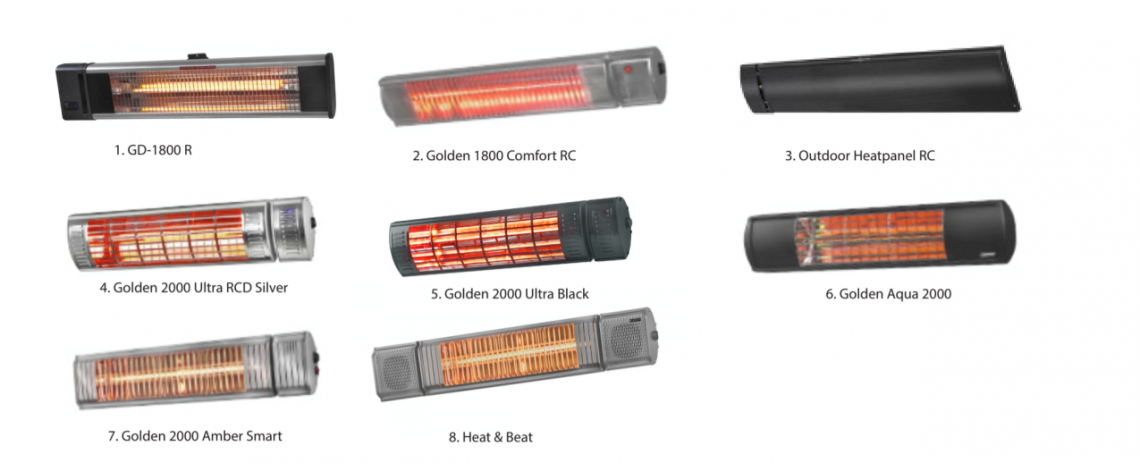 PROFESSIONAL ASSEMBLY OF AN ALUMINIUM SHADING
Professional assembly of an aluminium shading with a fixed roof ensures long life of your product, safe operation and many other benefits. The aluminium pergola is installed by 2-3 assembly technicians who were trained by the supplier. The installation takes approximately 1-2 days depending on the conditions, building preparedness and accessories.
This modern pergola may be anchored to the house wall or in the ceiling. In the case of mounting on the wall or ceiling, it is important to check the heating parameters and the composition of the entire house wall (insulation thickness, insulation material, wall thickness, the masonry material, etc.). If it concerns installation in an uninsulated façade, we use threaded rods with a certified chemical mortar. In the case that the masonry is insulated, we use the Fischer Thermax anchor screws in combination with a certified chemical mortar. We custom-tailor every project, and therefore we are able to ensure auxiliary consoles and profiles for successful and secure anchoring.
Firm anchoring of the pergola webs in the front part is important. If it concerns installation on a concrete base plate or a concrete foot, we use screws for concrete or threaded rods in combination with a certified chemical mortar. Provided that the customer does not have a possibility to build concrete feet, we perform the installation with use of screw piles. Look at an overview of fasteners for aluminium webs.
DELIVERY DEADLINE AND GUARANTEE OF ALUMINIUM ROOFING
The delivery deadline for this aluminium roofing is 8 weeks. Depending on the design, colour, accessories and special requirements it may be extended. The delivery deadline may affect the current production load and installation capacities (you will be notified of such fact upon consultancy and measuring).
The guarantee period provided by the manufacturer for this pergola is 5 years and applies to the aluminium structure of the pergola. The guarantee is only applicable provided that the product is used and maintained in accordance with the instructions included in the user manual.
MAINTENANCE AND CLEANING OF MODERN PERGOLAS
This version of aluminium shading is fully maintenance-free and therefore it does not require any special maintenance. We recommend to clean the structure and roof time to time with clean water without use of any detergents. The guttering and the drain hole in the upper part of the roof should be cleaned from any impurities, such as leaves and other. A disadvantage of the pergola with security glass is that all impurities are clearly visible on the glass (dust, dirt and others).
Advantages of Legend pergolas
a high-quality product "Made in Germany" with a 5-year guarantee
integrated gutter system in the front part ensure perfect water draining
suitable for use to the 2nd snow zone with the load of 170 kg/m2
an option of integrated LED lighting in the roof profiles
basic colours: white, creamy, anthracite and silver
structured surfaces (anthracite and silver) are included in the base offer
16 mm polycarbonate or 8 mm security glass
suitable for additional shading (an awning or screen roller blinds)
expendable to the winter garden with use of sliding glazing
Estimated price
Product type Aluminium pergola with a fixed roof LEGEND Width 4,000 mm Depth 3,000 mm Colour RAL 7016 Operation The pergola does not have any movable parts Version A pergola anchored to the house, polycarbonate 16 mm
Technical information
A product for life

A design product

Protection against sun

Rain resistance

Wind resistance

Snow resistance

Minimum size (width x depth): 2,000 x 2,000 mm

Maximum size (width x depth): 7,000 x 6,000 mm
How does the processing of your inquiry look like?
Contact

Contacting the customer with confirmation of receipt of the request and providing any specification for the requested product.

Offer

According to the details, we will send the prepared offer.

Approval

Contacting the customer to see if he has received the calculation and comments on it.

Measurement

If interested, you will arrange with our technician / sales manager a personal meeting for the last consultation and final measurement.

Planning

After receiving the order, we will arrange a delivery and installation date.